Octopus Express logistics pride ourselves in offering our clients a fully comprehensive installation service, designed specifically to meet the furniture industry and our end user clientelle. Proper installation of your new furniture is every bit as important as selecting the right pieces for your office space. Nothing creates headaches faster for employees than incorrectly installed furniture systems.
Our installation team install many types of workplace products. They are experts in most furniture systems, and can install either newly purchased products, or existing pieces you'd like to relocate.
Octopus have an outstanding industry reputation for installation services thanks to the proven processes we follow. The planning phase of installation begins long before the product arrives. Our furniture service business is divided into three parts which are the storage and distribution, installation and reconfiguration work for end users. Octopus Express also offer two man delivery or deliveries made direct to site by our client's manufacturer, where we can attend your premises to offload. We will also then unpack and install the furniture to meet your specifications and drawings. On occassions some of our distribution and installation product's are sent to us directly by a variety of manufacturers, which is purchased by our clients. We then consolidate the goods and deliver on the requested time and day to your premises on our own delivery vehicles.
Furniture Services include: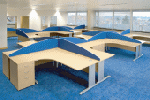 1) Installation
Octopus Express Logistics will be staff and manage all of the off loading and the movement of your products within your office plus operate a pre-installation marshalling service. We also control completely all of the unpacking, distributing, installation, removal and of course the safe environmentally freindly disposal of all used packaging. We also do all the cleaning down of completed installations before we leave the premises. All of our installations will be designed to your specifications in accordance with approved drawings supplied by you the clients. Octopus Express will at all times maintain a diary and record of all deviations from the agreed plan, which will be agreed in writing where ever appropriate. No alteration to layout plans will be made unless previously agreed with the client.
2) Pre-Installation
Octopus Express will if requested check drawings to ensure correct positioning of your product,. in relation to your furniture layout, against the dimensions of building in relation to furniture layout, and height of screens to window heights - all as appropriate.
3) Installation Personnel
All personnel are professionally trained and experienced in a variety of systems office furniture. Each team has a supervisor and all personnel are conversant in Manual Handling techniques. Each member of staff wears an Octopus Express Installations uniform. This varies on the Client's request. Each fitter carries relevant tools required for furniture installation.
4) Site Management
At all times there will be a member of staff who is appointed as the site supervisor who will be very experienced with running a team of furniture installers & also knowledgeable regarding the products being installed. He will also ensure that the team work to your schedule & way of working.
5) Staffing Levels
Due to the varying amounts of activity required to complete the installation schedule, manning levels will vary on a daily basis to ensure that the most effective and efficient levels of manpower are always available.
6) Additional Resources
Additional management, supervisory and installation personnel are available for support purposes. Also, additional vehicles and equipment are readily available if and when required.
7) Project Completion
A snag list will be completed by our Site Supervisor and any issues that can be resolved will be completed if possible before the onsite team leave. A walk round the completed installation with the supplier's Project Manager & the Client will also normally be carried out by the Site Supervisor on completion of the project. All sites will be left clean & tidy with all furniture leveled & wiped down. Keys will always be left with their relevant pedestals / cabinets.
8) Moving of Goods
During unloading we will check all products and they will then be marshaled and placed into the building. Octopus Express Logistics keeping emergency access routes free from packaging materials and accumulated product.